Robotization and automation of production
Automation could provide the key to keeping global enterprise open.
In central Taiwan's Taichung City, the so-called Golden Valley, production lines hum quietly with hi-tech precision machines operating completely automatically – for days and nights on end.
This area is home to a growing cluster of Taiwanese manufacturers using smart factories, amid a worldwide p ush towards industrial automation, known as Industry 4.0.
Victor Taichung is one such company. The robotic arms and automated systems that hone the machine tools it produces are so advanced they can technically operate without the need for light, heating or human oversight, which is why this type of cutting-edge manufacturing is called 'lights out' or a 'dark factory'.
While the Covid-19 pandemic has changed many aspects of the way we live and work, it has also served to accelerate a growing need for automation and smart factories. And despite the global pandemic, Taiwan is still very much open for business. This is thanks, in part, to the introduction of Industry 4.0 as a path towards improving efficiency and reducing the number of people involved in manufacturing processes, an advantage in today's socially-distanced times.
Taiwan has been able to curb the pandemic spread and its manufacturing industry is helping keep global businesses open, according to Peter Huang at Techman Robot, a manufacturer of "collaborative robots", best known for its production of seemingly sci-fi robotic arms. The arms are equipped with cameras and can be trained to perform both hard manual labour such as palletising large boxes, and delicate tasks such as assembling smartphones, making them a cutting-edge example of the Industry 4.0 revolution.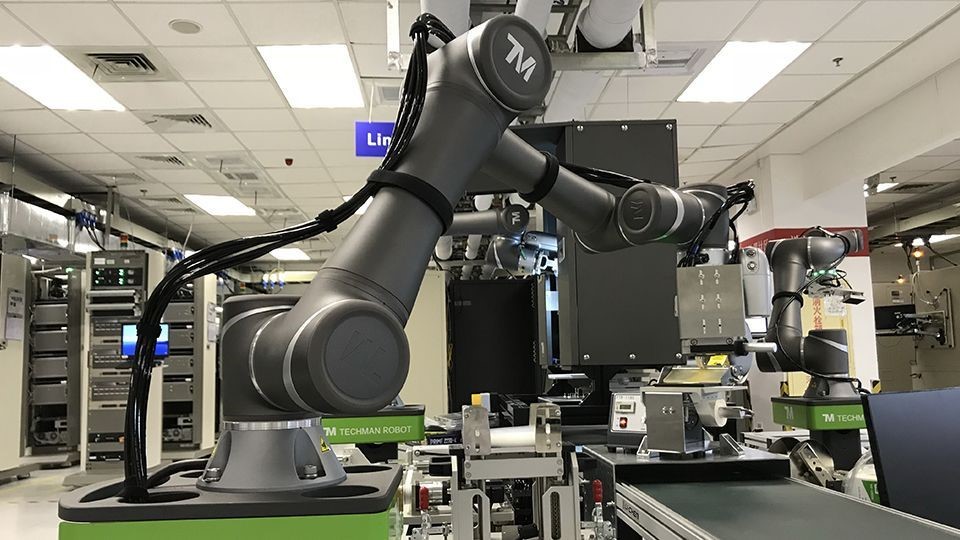 Robotic Arms from Techman Robot
"A traditional manufacturing factory requires a lot of manpower on the production line," Huang says.
"Since the outbreak, it can be seen that the factories that rely more on manpower resume work slower than the factories with automation. Even when factories resume production, they will be required to keep operators a safe distance apart from each other, resulting in lower production efficiency.
"Factories with Techman's robot can resume work faster since there is no need to worry that the robot will get infected."
After the pandemic is over, Huang believes there will be a rush to deploy robots and automation in factories, so the manufacturers can protect employees' safety and increase competitiveness.
Pioneering Technology Innovation
Taiwan is already a leader in the global technology supply chain with 10 home-grown companies in the Fortune Global 500, such as Hon Hai Precision Industry (trading as Foxconn), and the Taiwan Semiconductor Manufacturing Company, the world's largest independent semiconductor company.
This success is due to a combination of factors, including Taiwan's export-oriented economy, Taiwan's highly educated workforce and investment in hi-tech manufacturing sectors.
Another contributing factor is Taiwan's '5 +2 Industrial Innovation Plan' which has selected seven industries and projects to prioritise for state-backed venture capital, including smart machinery, green energy and the foundation of what Taiwan is calling the "Asia Silicon Valley", a nod to Taiwan's global technology aspirations.
Award-winning Solutions
Taiwan has been cultivating industrial excellence for nearly 30 years with its national product award, the Taiwan Excellence Award. Jointly created by Taiwan's Bureau of Foreign Trade (BOFT) and Taiwan's External Trade Development Council (TAITRA), the award is the highest accolade for Taiwanese products and represents an industry gold standard.
One such award winner is Tongtai, an intelligent machine manufacturer which has amassed no less than 21 accolades from Taiwan Excellence for its precision cutting machines.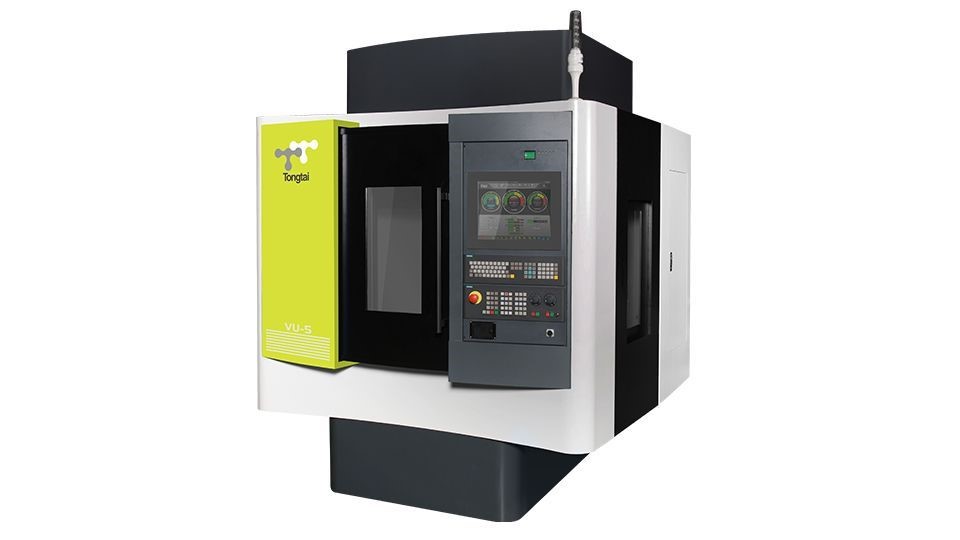 The VU-5 Ultrasonic Assisted Machining Centre by Taiwanese machine manufacturer Tongtai
For instance, its Ultrasonic Assisted Machining Center, which can be used for cutting materials such as sapphire and glass, has been designed to reduce cutting resistance and monitor the rising temperatures of tools, which it automatically adjusts by applying coolant. This helps extend the tool's lifetime, meaning fewer replacements and less downtime.
Taichung-based machine builder Buffalo Machinery is another multi-award winner – and stands to gain more especially as remote working becomes more important.
Its AXILE ART System allows manufacturers to synchronise machine data from production processes with mobile devices worldwide – allowing employees to access and analyse real-time production data remotely without needing to be in the factory.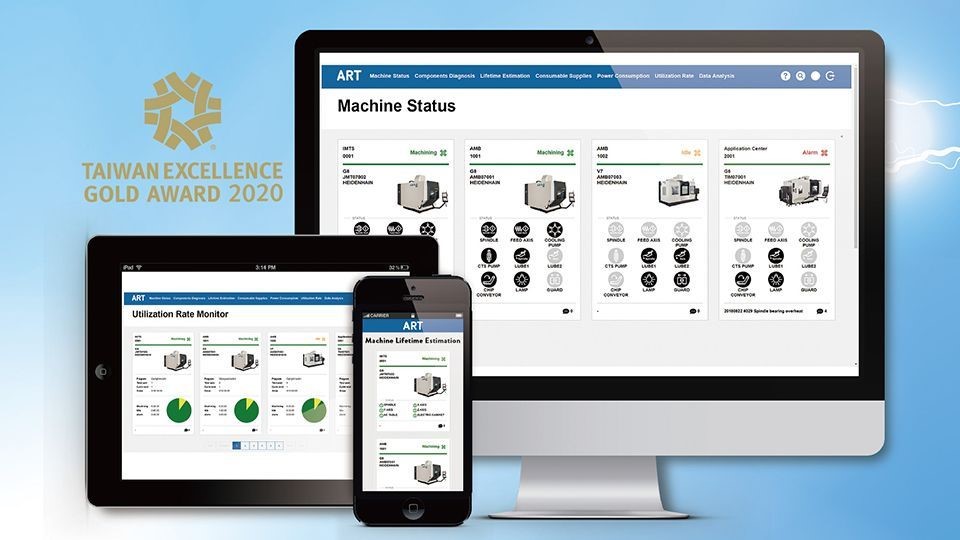 AXILE ART System from Taichung-based machine builder Buffalo Machinery
"By connecting to the user's software and IT systems, our AXILE system can optimise inventory control for automatic restocking and maintenance service to minimise service costs, even from home," a Buffalo Machinery spokesperson says.
In many ways, Taiwan being both a manufacturer and user of Industry 4.0 solutions means it is well-placed to continue supplying innovative products worldwide despite the disruption caused by Covid-19.
TAITRA Chairman James Huang says: "As one of the top five machine tool exporters in the world, Taiwan's smart machinery industry has flourished thanks to its strength in Information and Communications Technology (ICT) and precision machine technology. This enables us to deliver cutting-edge industry 4.0 solutions to businesses worldwide, allowing them to transform their operations and drastically improve their efficiency."
Everyday Excellence
Taiwan Excellence believes that innovation makes a difference in everyone's life.
Excellence means creative designs that we use every day on the street, at work, at home. It's the things we touch. It's the things that touch us.
Excellence means the technology that makes us healthy, keeps us moving, and gives our children a green tomorrow.
Excellence empowers people to dream amazing dreams, and live fuller lives. It's the best made in Taiwan. It's the choice of innovation.
For everyone. Everywhere. Every moment. Everyday.
© A. Rakovich. Системы промышленной автоматизации / Systems of industrial automation